Sculptor renowned worlwilde
The Ankh Cross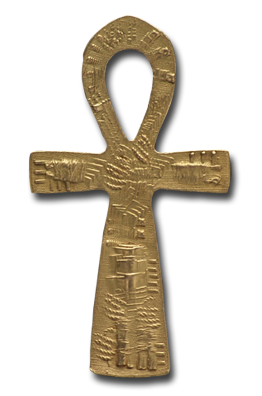 Since my childhood, the Ankh Cross has always intrigued me by its shape and its mystery.
This has considerably gained in significance during my voyage to Egypt.
I have made this cross with a coded memory on its surfaces.
I wear it.
It has also ben integrated into several of my works of art and it merges with my names.
Assistant du cours supérieur de sculpture à l'Académie des Beaux- Arts de BruxellesHigher Course of Sculpture Assistant at the Academy of Fine Arts of Brussels
Higher Course of Sculpture & Monumental Sculpture Professor at the Academy of Fine Arts of Brussels
Working bronze (lost-wax process), stainless steel, stone and black marble.
Has obtained many awards in Belgium and abroad.
Represented in many private and public collections: Belgium, USA, France, Italy, Ivory Coast, Japan, Taiwan and China.
Monumental Constructions
Brussels "Winterthur"
Sculpture for the European School in Uccle, Brussels
Construction of cast iron columns and sculptural surfaces (ground) 400m² for the Ministry of Finance, Charleroi
Bronze sculpture at the Palace of Fine Arts of Charleroi roundabout
"Botanique" Underground Railway Station: bronze sculpture
Many personal and collective exhibitions in Belgium

International Exhibitions
2nd International Biennial of Ravenna (Italy)
FIAC Grand Palais in Paris
1st International Biennial of Athens
1st International Biennial of Skironio (Greece)
Moscow, Beijing, Lille
Kaohsiung Museum (Taiwan) – Personal Exhibition : 30 Years of Sculpture
World Expo in Shanghai
Bibliography
"Martin Ankh" by Raymond Lacroix
"Le Bronze, La Plume" by 20 Belgian Poets
"Martin Ankh's Sculptures" – Kaohsiung Museum (Taiwan)
"Portable Sculpture"
Travel
China, Thailand, Morocco, Tunisia, Egypt, Qatar, Bareim, Turkey, Greece, Italy, France, Germany, Taiwan.